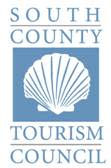 South County Tourism Council Hires New President & CEO
Monday, June 13, 2016, Wakefield, RI, - After a nationwide search, South County Tourism Council's five-member search committee has hired a new president and CEO.
Louise Bishop started June 8, as President and CEO of the South County Tourism Council. The Council represents the towns of Coventry, Charlestown, East Greenwich, Exeter, Hopkinton, Narragansett, North Kingstown, Richmond, South Kingstown, West Greenwich and Westerly.
For over 30 years, the Council has passionately and with singular focus created the only integrated marketing campaign for the region, which now enjoys double digit revenue increases.
The Council's former president and CEO, Myrna George, was scheduled to retire in mid-March after more than 13 years at the helm, but stayed on longer due to the delayed launch of the State Tourism Campaign. To insure a smooth transition, George will remain as SCTC Creative Director and legislative liaison.
The search committee included Board Members from the Tomaquag Museum, Ocean House, Yawgoo Valley Ski & Recreational Area, Charlestown Mini Super and several area businesses. The committee launched a nationwide search, receiving more than 50 applications both locally and from around the country. Finalists were brought to the area for tours and interviews, and Bishop was selected.
Bishop, "has the right set of skills, attitude and enthusiasm to lead the South County Tourism Council to the next level," said search committee member Loren Spears, Acting Chair.
Aside from her role with Buffalo Lodging, Coventry, RI. Bishop's resume also includes development of her own successful business in Manhattan and throughout New England, officials said.
"The South County Tourism Council region is a model of successful tourism development that any destination marketing professional would love to be a part of," Bishop said in a statement.
###