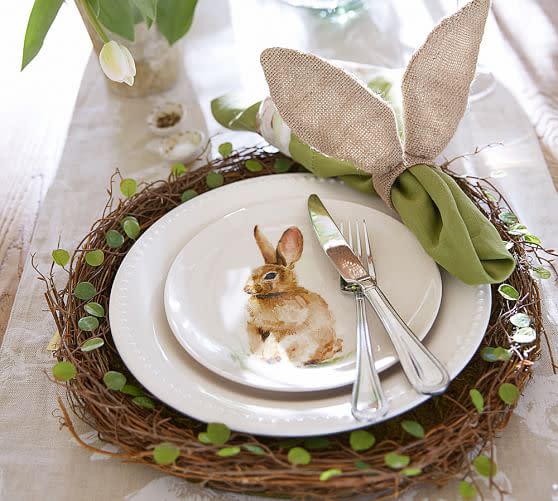 The Easter bunny is hopping in to town early this year. If you're visiting South County, Rhode Island this weekend, why not let one of our fine restaurants serve you and your family Easter dinner, or, if you prefer, Easter brunch. Here are some restaurants offering special Easter menus:
Coast Guard House's Easter brunch features a special menu with an omelet station, a carving station, scrambled eggs, bacon, sausage, home fries and French toast, plus lunch favorites such lamb stew, roasted chicken, North Atlantic salmon, and pasta, plus fruit, baked goods, pastries and more. To view more menu items, click here. The cost is $36.95 for adults, and $18.95 for children ages ten and younger. Call for reservations or book online. 40 Ocean Rd., Narragansett, 401-789-0700, coastguardhouse.com
Carriage Inn and Saloon is hosting an Easter brunch buffet with various stations including  classic breakfast, create-your-own omelet, soup and salad, lunch featuring baked cod, chicken saltimbocca and baked cavatappi, a carving station with prime rib and ham and a dessert. To view the complete menu, click here. The cost is $26.95 for adults and $12.95 for ages twelve and younger. 1065 Tower Hill Rd., North Kingstown, 401-294-8466, carriageinnandsaloon.com
Known for their farm-to-table dinner, Exeter's Celestial Cafe's family-style  Easter brunch is full of local delicacies such as: puff pastry starters bursting with berries from Fairland Farms, flapjacks made from Kenyon's Grist Mill mix and served with a custard composed of Schartner Farms' berries, home fries from S&P Gardiner Farms, pork belly bacon, omelets featuring Pat's Pastured eggs, cheese from Narragansett Creamery and dessert! The cost is $28 for adults, $9 for children and children under 4 eat free. First seating is at 2PM, reservations are strongly recommended. 567 South County Trl, Exeter, RI, 401-295-5559 celestialcaferi.com
The Mariner Grille in Narragansett is offering an Easter brunch complete with an antipasto station, made to serve omelets, a breakfast station, carving station with prime rib au jus, pineapple honey-glazed ham, and roasted leg of lamb, as well as lunch options such as bourbon maple pecan crusted salmon, chicken monterey, tortellini a la vodka, baked Atlantic cod with crab meat and delicious desserts. The cost is $26.95 for adults, $12.95 for children under 12. 140 Point Judith Rd, Narragansett, RI 02882 401-284-3282 marinergrille.com
Eleven Forty Nine
Eleven Forty Nine in East Greenwich  will be serving  a breakfast and dinner buffet for Easter,  including such favorites such as a raw bar, dessert and more. To view the full menu, click here. Brunch runs from 9:30 a.m.−4:30 p.m. and dinner from 3:45−6 p.m. The cost is $39.99 for adults, $19.95 for ages six to twelve and children five and younger eat for free. 1149 Division St., East Greenwich, 401-884-1149, restaurant.elevenfortynine.com
Ocean House
From 10 a.m.−4 p.m., guests can enjoy an Easter brunch buffet in the Seaside Ballroom. Dine on brunch classics as well as Ocean House chefs' creative interpretations of sweet and savory favorites. Pianist Michael Campbell will perform during brunch. The cost is $78 for adults, $35 for ages four to twelve and children younger than three eat for free. 1 Bluff Ave., Watch Hill, 401-548-7000, oceanhouseevents.com
The Weekapaug Inn executive chef pulls inspiration from the inn's natural habitat, creating a three-course holiday menu that is served family style and highlights the freshest local ingredients. Easter takes place from noon to 6:30 p.m. The cost is $68 for adults, $34 for children ages four to twelve, and children ages three and younger are free. Reserve a table online. 25 Spray Rock Rd., Westerly, 888-813-7862, weekapauginn.com
Red Stripe in East Greenwich is serving Easter brunch from 10 a.m.−3 p.m. Specials include hand-carved corned beef hash and duck confit pappardelle. 455 Main St., East Greenwich, 401-398-2900, redstriperestaurants.com
For more restaurants in South County, visit our website. And for more ideas for things to do, visit our event listings.