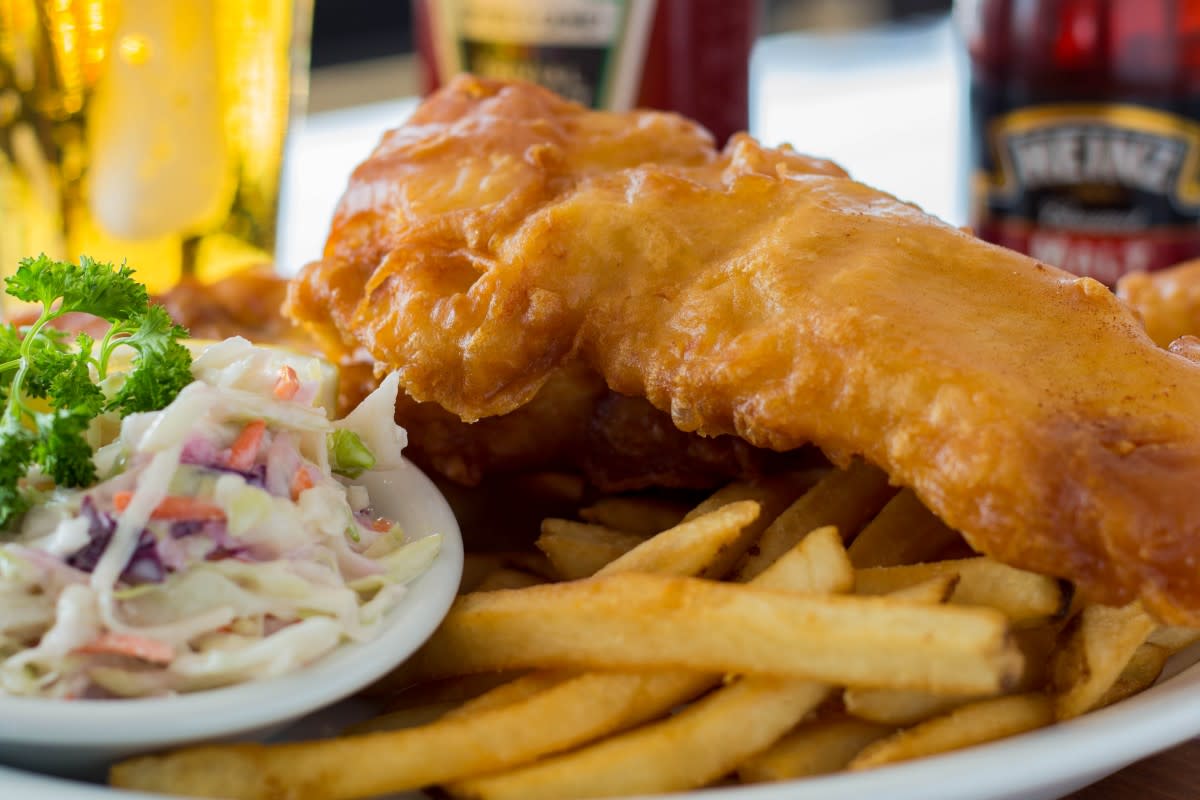 Is there anything you crave more in the summer than fish & chips, or fried clams? For some reason, summer, especially in New England, calls for enjoying fried fish served with cold, creamy cole slaw and a pile of crispy french fries. Below are some of the places in South County, RI where you can get your fill of fried seafood.
Aunt Carrie's: Come picnic by the water or enjoy the ocean view from their dining room. Serving fresh seafood, meat entrees and our homemade breads and desserts are a must!  BYOB.
Cap'n Jacks/Salt Marsh Pub & Raw Bar: Family owned and operated for over 40 years, this little clam shack by the scenic Succotash Rd. salt marsh has been expanded to include a raw bar.  They specialize in local New England favorites such as clam cakes, chowder, fish and chips, fresh lobster, native steamers, little necks, pasta, steak and chicken. They also have a pastry chef on premise who keeps our cases filled with homemade goodies like cakes, pies, giant Eclairs, turnovers, and many others.
Champlin's Seafood: Located at the entrance to Galilee Harbor, home of Rhode Island's largest fishing fleet. Enjoy your favorite seafood dish on a spacious deck or in the channel view lounge and watch local fishermen unload their daily lobster and fish catch. Fresh dayboat scallops, world famous Pt. Judith squid, pristine Block Island swordfish…it all comes across the docks. They serve some of the finest (and freshest) seafood available in Rhode Island.
Iggy's Doughboys & Chowder House: A long time competitor of Aunt Carrie's. It is said that people are in one of two camps - the Aunt Carrie's camp or the Iggy's camp. Try it and see which one you prefer. Doughboys (aka clamcakes), chowder (three different choices), and fried seafood are in abundance.
George's of Galilee: Overlooking the Block Island Sound in the picturesque fishing port of Galilee, George's has been serving generations of families their award winning signature dishes since 1948.  Offering the widest selection of Boat-to-Plate seafood in Rhode Island.  Choose from five different dining rooms on two floors, al fresco dining, and a takeout window for bathers on the beach, all with spectacular waterfront views.
This is just a sample, click here for more delicious dining destinations in South County, RI.