"As I ate the oysters with their strong taste of the sea and their faint metallic taste that the cold white wine washed away, leaving only the sea taste and the succulent texture, and as I drank their cold liquid from each shell and washed it down with the crisp taste of the wine, I lost the empty feeling and began to be happy and to make plans." 
― Ernest Hemingway, A Moveable Feast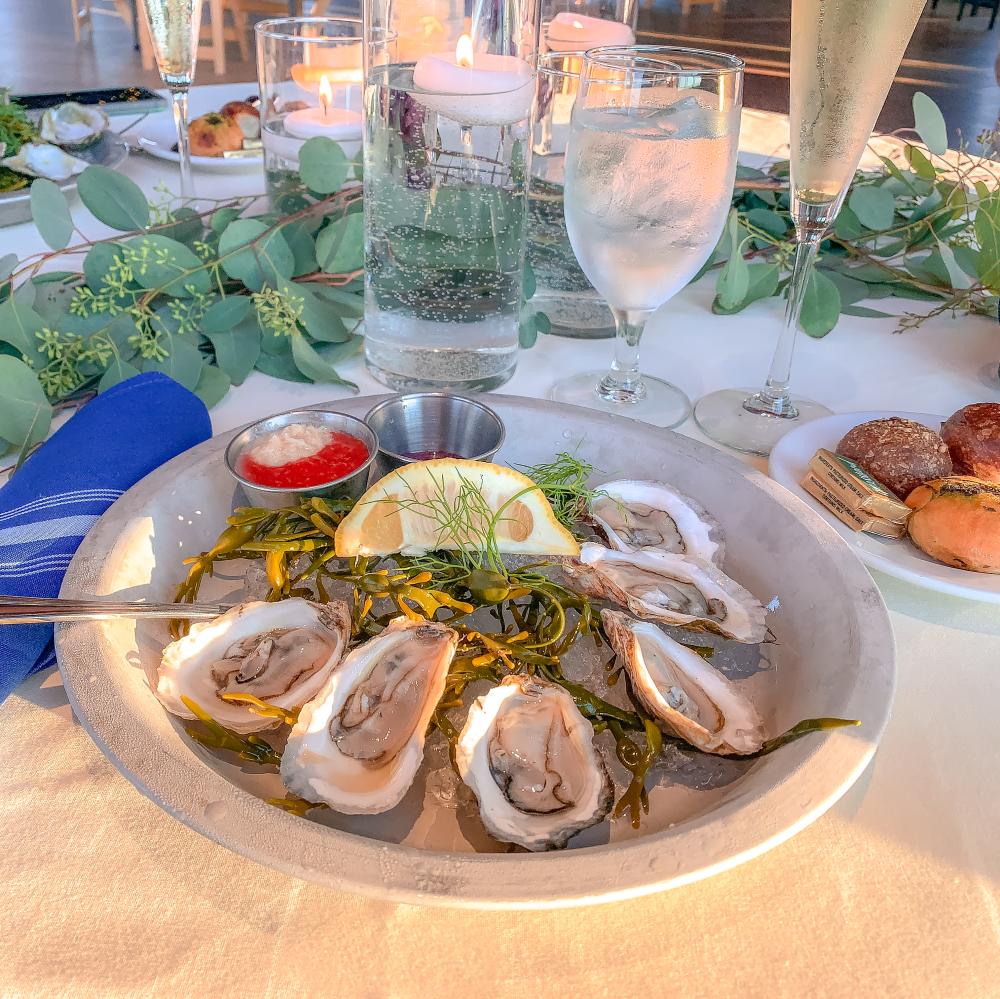 Picture a romantic dinner in a castle tower surrounded by windows with views of ocean waves crashing outside as the sunset. There are only a few tables, spaced far apart and tucked in quiet corners of the room. Fairy lights twinkle from the rafters and candlelight flickers all around. Jazz music infuses the setting with a swanky, laid back vibe. Outside the sun is about to set and the sky is fading from blue to purple to pink and the moon is rising over the ocean. You're handed a tall flute of sparkling wine with a hint of lavender as you enter and are shown to your table. Eucalyptus and candles adorn the table which is draped in an elegant white table cloth. Your server brings out a selection of bread followed closely by six local oysters complete with cocktail sauce or mignonette. Are you in a dream? What is this place? 
This is Coast Guard House restaurant's "A Moveable Feast", yes, like Hemingway's book. Only instead of taking place at the restaurant, it takes place across the street at the historic Towers of Narragansett - the 1800s landmark that is the only remaining part left of the resort casino that stood there over 100 years ago. Up in those towers, the views are breathtaking, and Coast Guard House has planned a beautiful and delicious prix fixe New England lobster bake. This is truly a magical dining experience.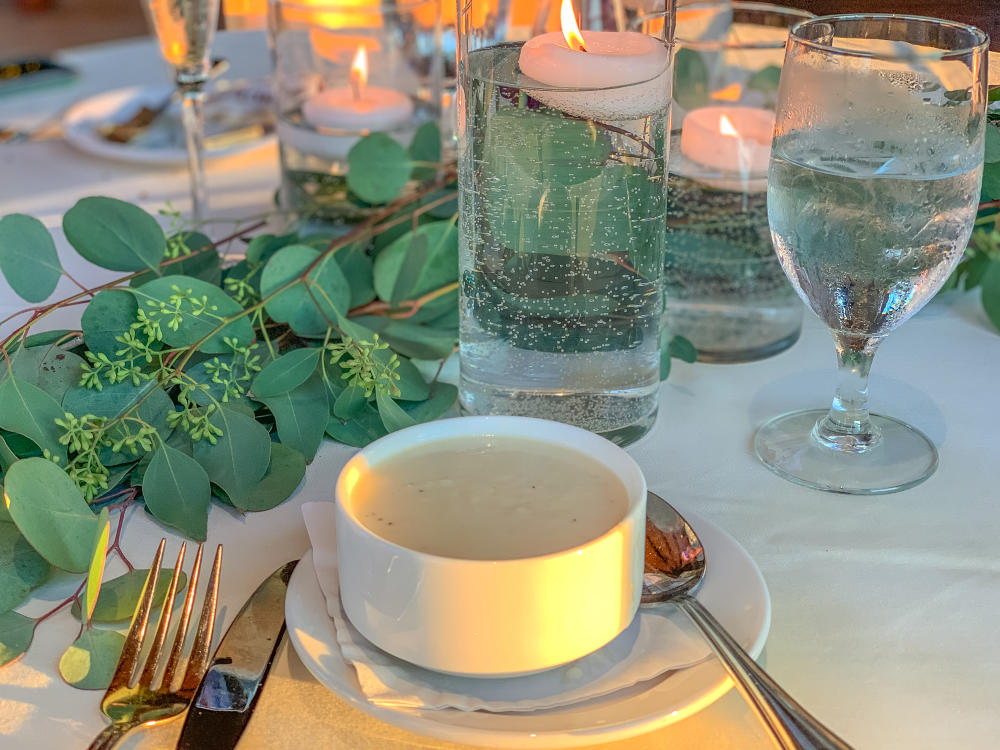 After your oysters are cleared, out comes a steaming hot bowl of New England clam chowder - creamy and velvety and full of fresh clams. Here you may order some wine to go along with your chowder. Ask your server for pairing suggestions, and they may send over Sommelier Elisa Wybraniec, who will pick the perfect wine to complement your meal.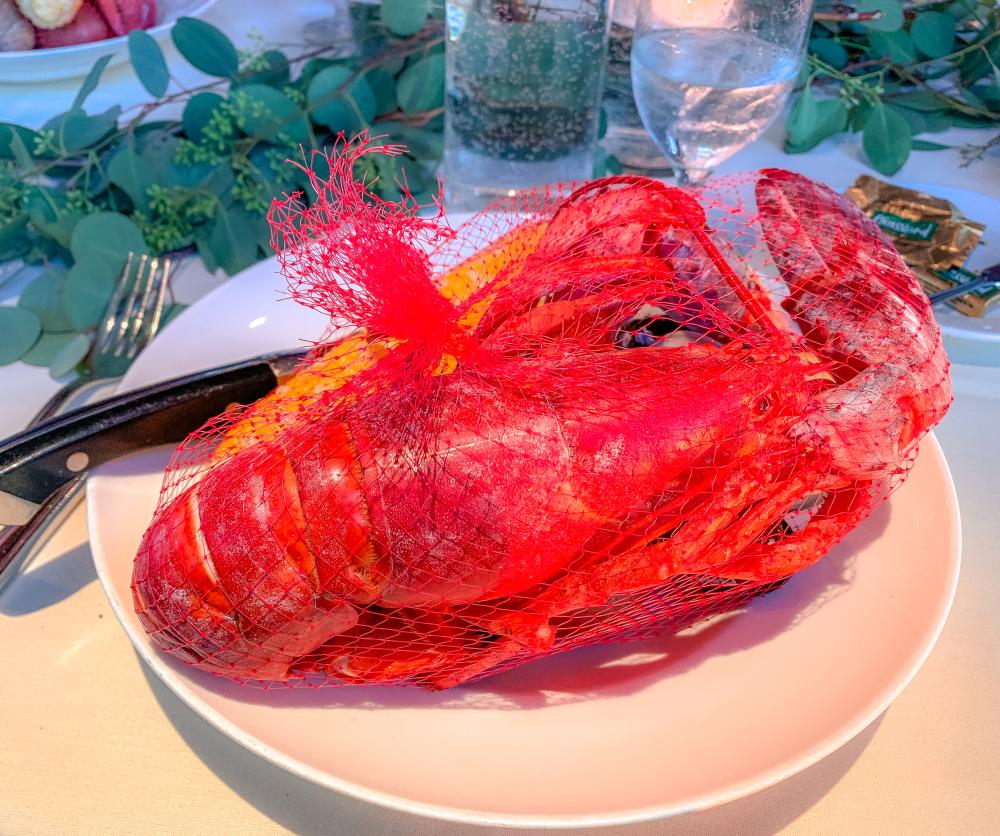 Once you've savored every last bite of that creamy clam chowder and you think you might be full, out comes your server with the tools you'll need to eat your main course: lobster cracker, bib, handy wipes, empty bowls for your shells, and a small bowl of golden, shimmery, melted butter. Your lobster comes out steamed in a net bag along with fresh mussels, local littleneck clams, creamy red potatoes and an ear of fresh golden corn. While the tables are spaced apart, and there's no more than five, maybe six, in total, you can still hear the gasps of other diners as the main course arrives and even the "mmmms and ahhhs" as they savor their meal. Get to work!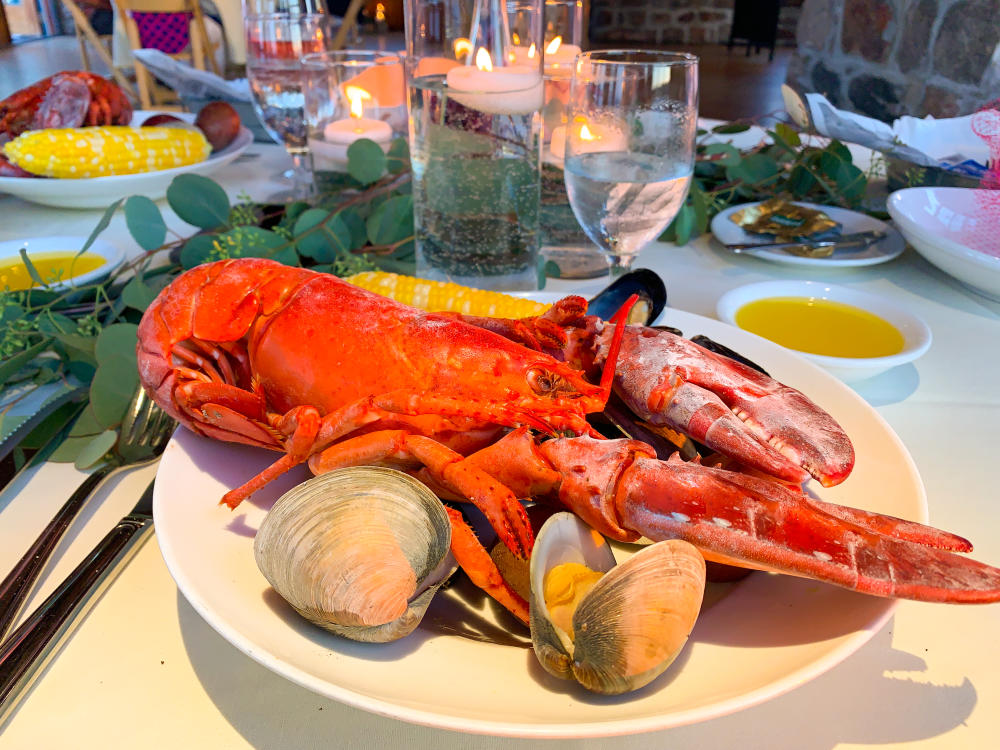 The lobster is easily almost two pounds, and it's by far, the sweetest lobster you've ever tasted. I don't know about you, but I like to take everything out of the shell and douse it with butter before taking even a bite. That way, I can truly enjoy it. The clams and mussels are so fresh. The corn is as sweet as the lobster and the potatoes round out the meal perfectly. It's hard to finish every bite, you're that full, but it's so delicious you don't want to waste any of it.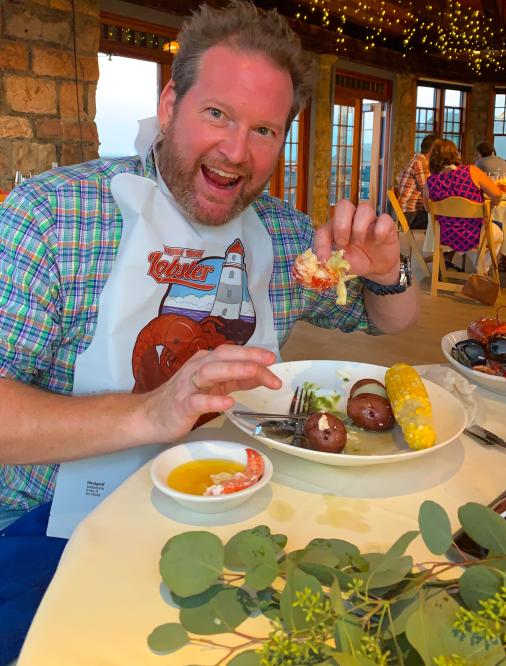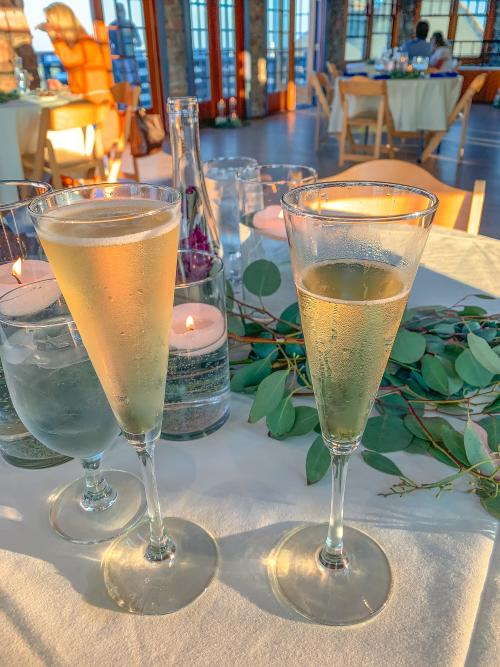 I hope you've left some room. If not, now is a good time to step outside on the balcony and take a deep breath.(Be sure to put your mask on, but you may take it off on the balcony as long as you're alone.) Feel the ocean breeze and watch the waves crash on the rocks below. To your right you can see the Coast Guard House restaurant and the diners enjoying dining outside. To your right you can see people lingering still on Narragansett Town Beach, laying on their blankets, walking along the shore, surfers are still riding waves as the moon rises.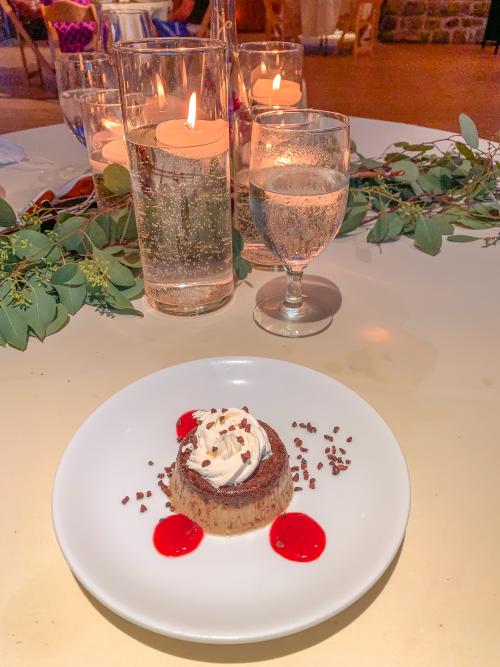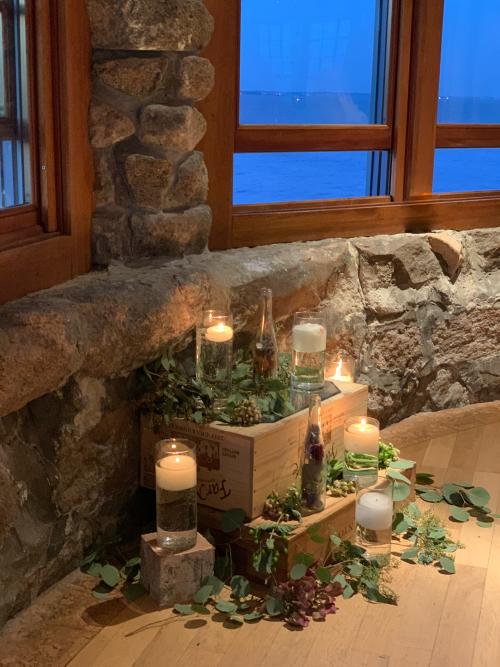 As you make your way back to your table (mask on, of course), you see your server heading over, too, with dessert. As they set it down, they tell you it's a coffee milk panna cotta with a raspberry sauce. Surely you cannot eat another bite of anything, but how can you pass up coffee milk panna cotta? You say you'll just taste it, and find yourself finishing it in no time after many "mmms'.  It's a great time for an after dinner drink, a digestif, to help you digest this rich and delicious feast you just indulged in. Elisa will know just what you need.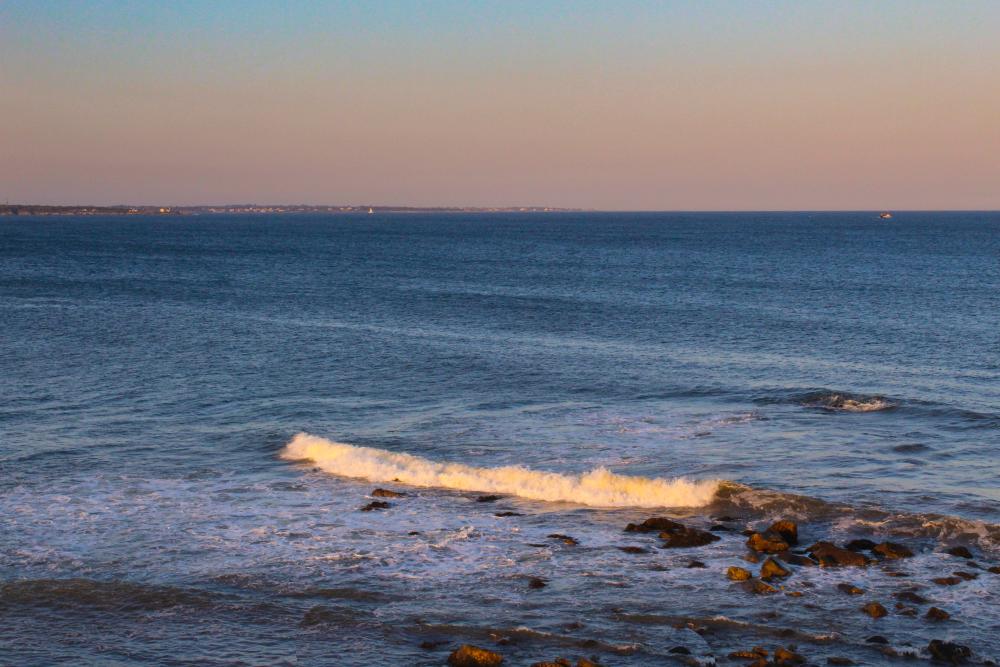 As you head back to your car, perhaps, you'll take a stroll along the sea wall and complete this memory, because it truly will be one of the most memorable meals of your life. The ambiance, the setting, and least of all, the food itself will be worth revisiting, talking about and savoring. This experience is only available for a limited time, so if you haven't been, be sure to make your reservation for Coast Guard House's "A Moveable Feast" at the Towers. Seating is available Mondays and Wednesday til September 2nd.