Every year, the Ocean House Management Collection unveils something new and unique to experience at their luxurious, award winning properties in South County — Ocean House, Weekapaug Inn, Watch Hill Inn and now The Preserve Sporting Club & Residences. This spring and summer there's a lot to look forward to when visiting any of these properties in South County. Here's a sneak preview of what to expect and start booking now so you don't miss out!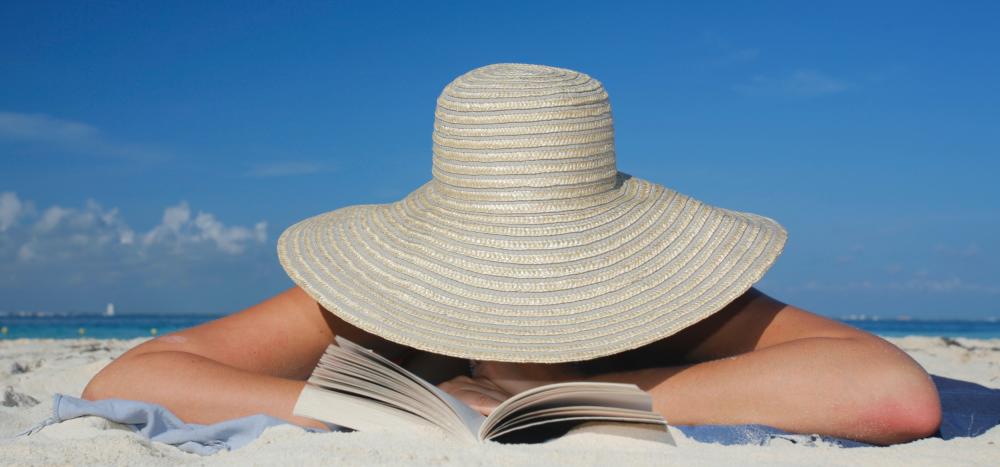 Ocean House Summer Author Series In Conversation with Deborah Goodrich Royce 
Whether your summer plans include lounging on the beach with a spicy novel or taking breaks from your busy schedule with an engrossing read, we invite you to delve into the season's most transportive page-turners. Ocean House has partnered with the Savoy Bookshop of Westerly to relaunch their summer author series. The sessions will be moderated by Ocean House owner and author Deborah Goodrich Royce.
These intimate chats will happen on Wednesday's from 5:00 to 7:00 p.m. during July and August. Each evening will highlight a regionally-based author with wine and conversation about their recent works. Featured writers include New York Times bestselling author of historical fiction Beatriz Williams (July 7), and Wendy Francis who will present her newest novel Summertime Guests (July 21). On August 25, Mrs. Royce will discuss her acclaimed new suspense thriller Ruby Falls.
Books will be available for purchase and signing. To stay updated on featured authors, specific dates and to reserve your attendance, please visit OceanHouseEvents.com.
NEW: The Sipping Terrace Afternoon Tea, Dinner and Gin in the Garden
An enchanting new outdoor dining setting will be unveiled at Ocean House — an ideal spot for intimate socially distanced soirées. Serving afternoon tea and dinner in private greenhouses, the Sipping Terrace features epicurean delights and Sipsmith gin cocktails for parties of up to four and six people. Surrounded by lush greenery, the collection of greenhouses is tucked between lime and lemon trees with views of spectacular sunsets beyond Watch Hill's coast. 
Afternoon tea commences at 3:00 p.m. offering a modern interpretation of traditional tea fare – assorted tea sandwiches include truffled egg salad and smoked salmon with pickled red onion. Scones are served with Devonshire cream, lemon curd and preserves.
Dinner seatings start at 5:30 p.m. with a three-course upscale picnic menu including whimsical Garden Crudité with pumpernickel "soil," compressed watermelon and fennel salad with goat cheese, and a flavorful main course served family style, including herb roasted chicken and seared Stonington scallops. 
A bespoke cocktail menu is presented with panache. Graceful copper swan stirrers jut from vintage-inspired glasses in varying silhouettes. Imaginative concoctions include Hibiscus are Red, featuring Sipsmith gin, hibiscus syrup, flowers and soda. After your meal, cozy up on the garden swing or lounge around the firepit for a digestif.
The Sipping Terrace is in partnership with Sipsmith, pioneers of the gin revival and London's first copper distillery for nearly two hundred years. A portion of proceeds will be donated to local charities through the Ocean House Fund for Charitable Giving. Make a reservation.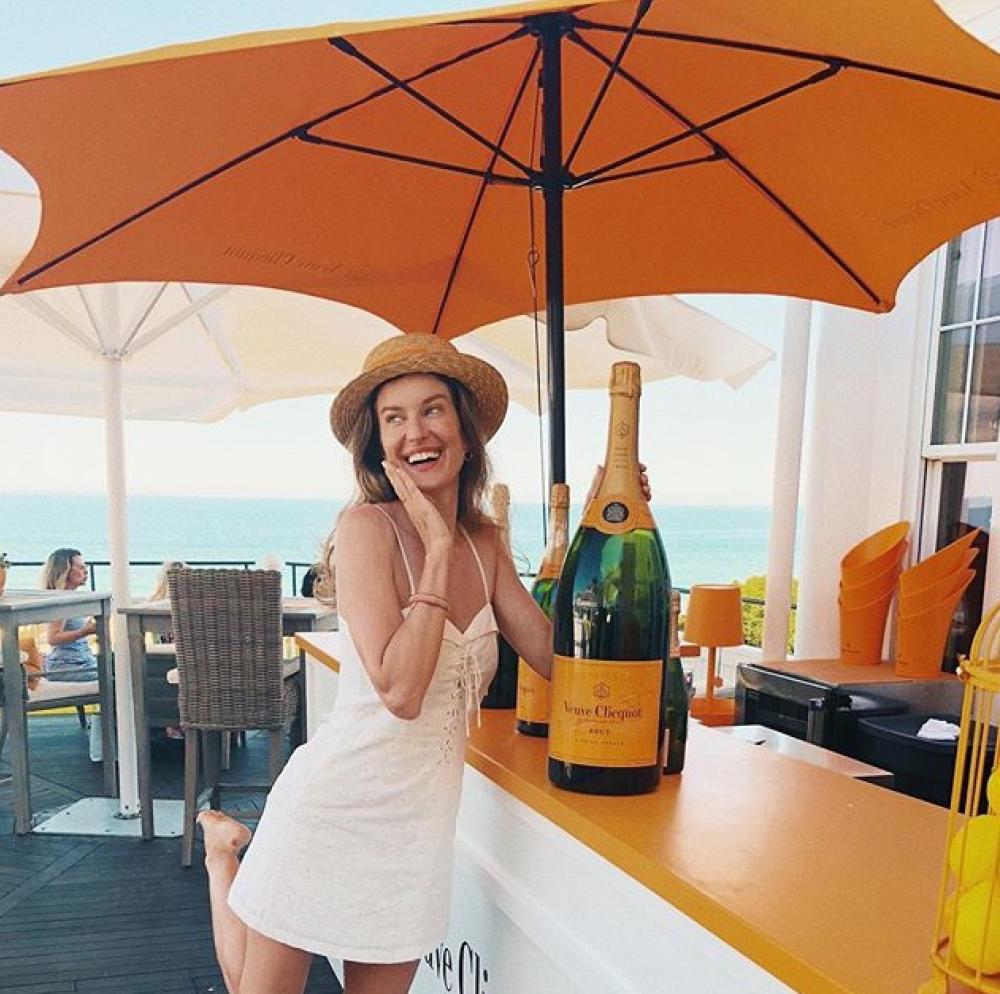 Reimagined: Secret Garden Crêperie with Veuve Clicquot
Idyllically located on a private terrace with expansive views of the Atlantic Ocean, the Secret Garden will serve as an al fresco crêperie when it reopens this summer. Redesigned with chic bistro tables, the venue will showcase a new menu and Veuve Clicquot champagne amid lush boxwood hedges.
Featured crêpes include Smoked Salmon with crème fraîche and crispy potato with option to add Belgian Osetra Caviar. Sweet crêpe choices are Honeyed Apricot & Orange Marmalade; Peach, Cinnamon & Thyme; or classic Banana & Nutella.
Cleverly crafted by Director of Wine Jonathan Feiler, a selection of Veuve Clicquot Rich cocktails range from Veuve Clicquot Rich Rosé Berry served with blackberries, blueberries and raspberries to a spicy option that incorporates pineapple, cilantro and jalapeño. Make a reservation.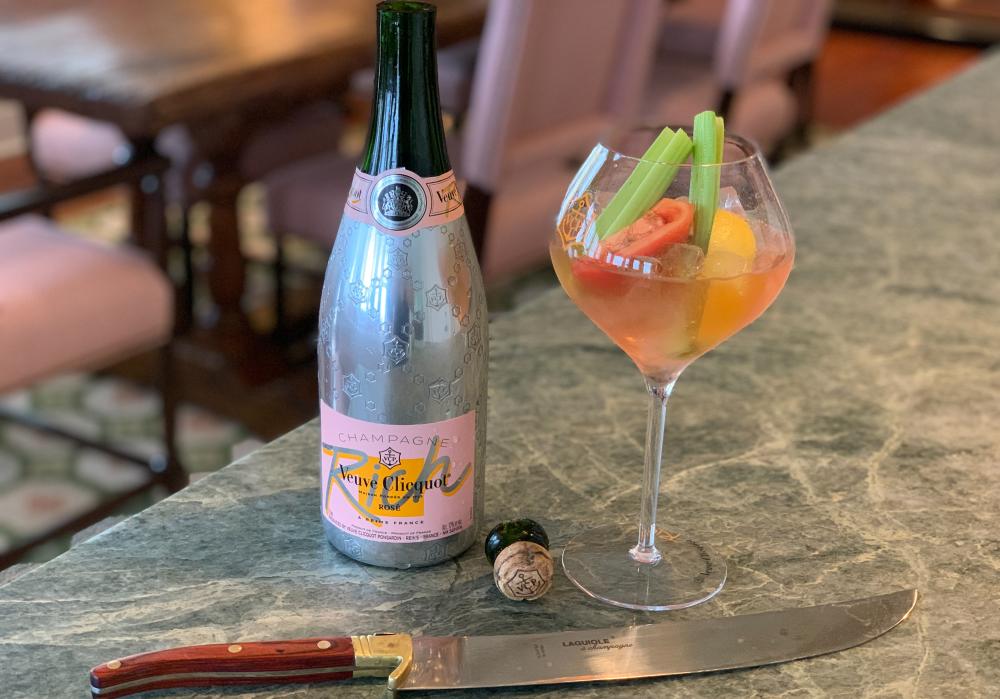 Introducing Ring for Rosé with Whispering Angel
Get ready for the world's best rosé delivered to your door. If you stayed with Ocean House this past year, you may have experienced their BarMobile craft cocktail cart. This summer, they're putting a seasonal spin on this guest room delivery service with the launch of the Ring for Rosé cart. It will serve rosé by the glass or flights, plus complimentary seasonal snacks to rooms and suites daily starting at 5:00 pm. 
The Ring for Rosé cart features the entire Château d'Esclans' rosé portfolio, including the new vintage of Whispering Angel, The Palm, Rock Angel, Château d'Esclans, Les Clans and Garrus, the world's most exclusive rosé. Château d'Esclans is a winery in the heart of Provence, northeast of St. Tropez, and is the birthplace of the Rosé Renaissance.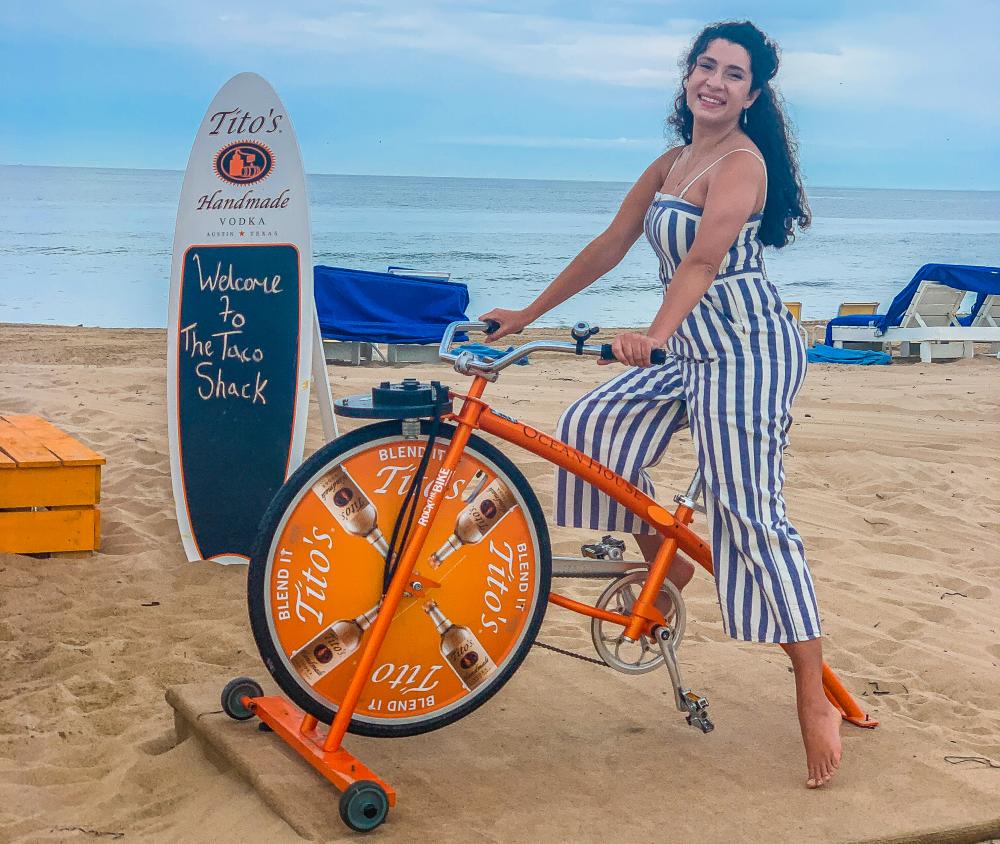 The Taco Shack with Tito's Handmade Vodka
Back by popular demand, The Taco Shack returns for its second summer season. Head down to Ocean House's beach to feast on delicious gourmet tacos—beef barbacoa or grilled jerk chicken—and an array of drinks and cocktails made with Tito's Handmade Vodka. Want to be part of the action? Hop on one of the blender bikes to mix up your own frozen Tito Rita, Frosé or Tito's Frozen Lemonade.
Due to its location on Ocean House's private beach, The Taco Shack is only open to hotel guests and Ocean House members. 

Beach Cabanas Styled by Lilly Pulitzer with Sips by Villa Sparina
This summer, Ocean House will elevate its beach cabana experience through a partnership with Villa Sparina estate. The celebrated wine-making farm is located in the vineyards of Monterotondo in Italy's renowned Gavi area in the Piedmont region. 
Guests who book one of the spacious beach cabanas will receive a complimentary half bottle of Villa Sparina's Gavi di Gavi DOCG, full and rich in flavor, yet refreshing with delicate notes of dried pineapple and peach. Ocean House's beach cabanas feature cheerful coastal decor - including pillows and towels - by iconic resort wear brand Lilly Pulitzer. Each cabana seats up to six guests, and includes a dedicated valet and drop-down canvas walls for added privacy.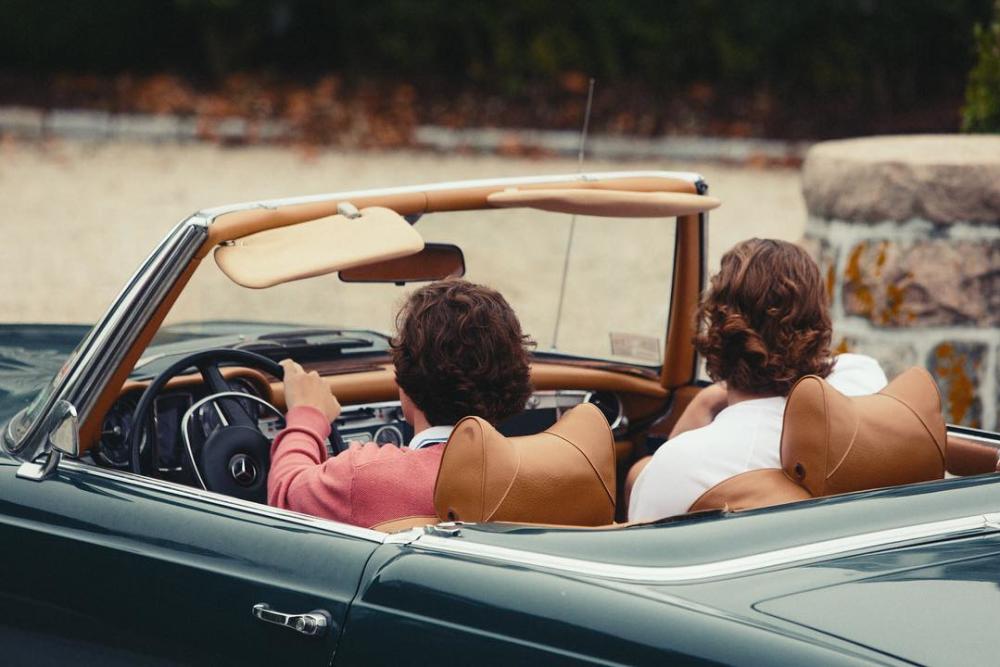 Go for a Spin with Mercedes-Benz
Ocean House's new Mercedes-Benz fleet has arrived! As part of Ocean House's exclusive partnership with Mercedes-Benz, guests enjoy complimentary use of luxury vehicles during their stay. The new additions range from convertibles—the 2020 AMG C 63 Cabriolet and E 53 Cabriolet — to the GLS 580 SUV and S-Class Sedan (2020 S 560 Sedan).
Take one of the cars on a driving excursion to explore local attractions or for an evening out on the town. See the rest of South County — experience the darkest stretch of night sky between Boston and New York City and go stargazing at Frosty Drew Observatory, go shopping on Main Street in East Greenwich or sample nearby restaurants such as South Kingstown's famous Matunuck Oyster Bar.
Available on a first-come, first-served basis. Visit the front desk to sign out a vehicle and check availability during your stay.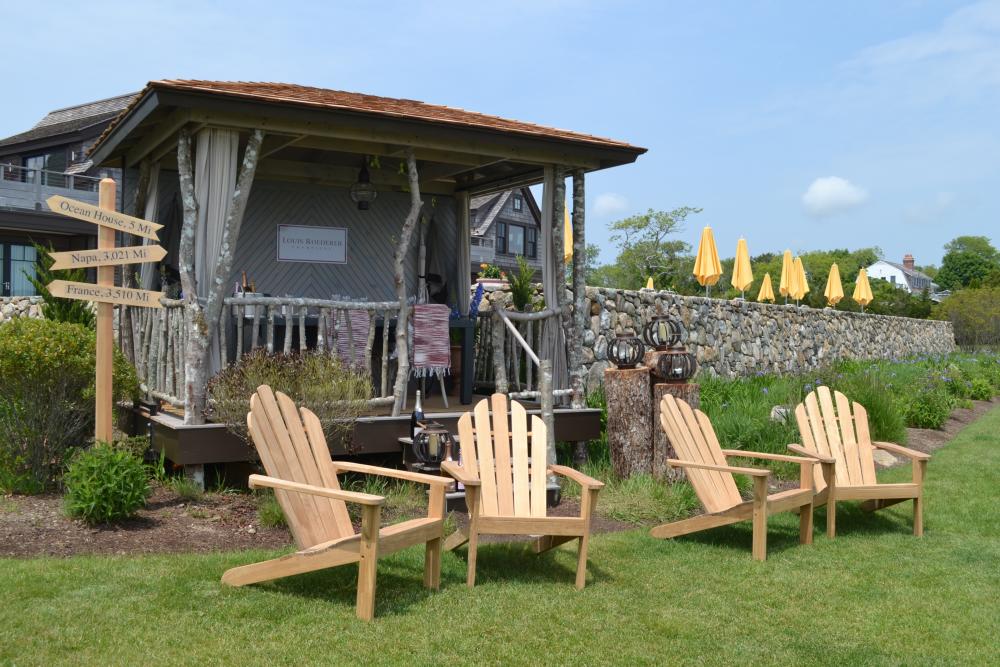 Dine at Weekapaug Inn's Pondhouse
Welcome to the PondHouse – Weekapaug Inn's imaginative culinary pop-up concept. Reminiscent of a grounded tree-house, this instagrammable pop-up venue maintains the inn's barefoot luxury ambiance and connection to nature being rustic yet refined. The pond-to-plate menu is a delicious, new twist on farm-to-plate cuisine. The Ocean House Management Collection has partnered with the world renowned champagnes of Louis Reoderer to bring this concept to life.Guests arrive into a magical scene created close to Pond, to dine in an open-air pavilion with serene views all around.
This exclusive, interactive dining experience, priced for up to four guests, features a savory, locally sourced three-course menu for brunch or dinner. Guests enjoy pond-to-plate or pasture-to-plate selections on skewers for lunch or dinner, all cooked or finished over the flames of a unique, finely forged grill inlaid into the dining table. Expertly imagined summertime side dishes celebrate the best of the season.
Each course is thoughtfully paired with iconic Louis Roederer Champagnes.
Seatings available May 20 – October 31, weather permitting. Four (4) guests per seating.
• Lunch: Daily, 1:30 p.m. seating
• DINNER: Nightly, 5:00 p.m. and 8:30. p.m. seating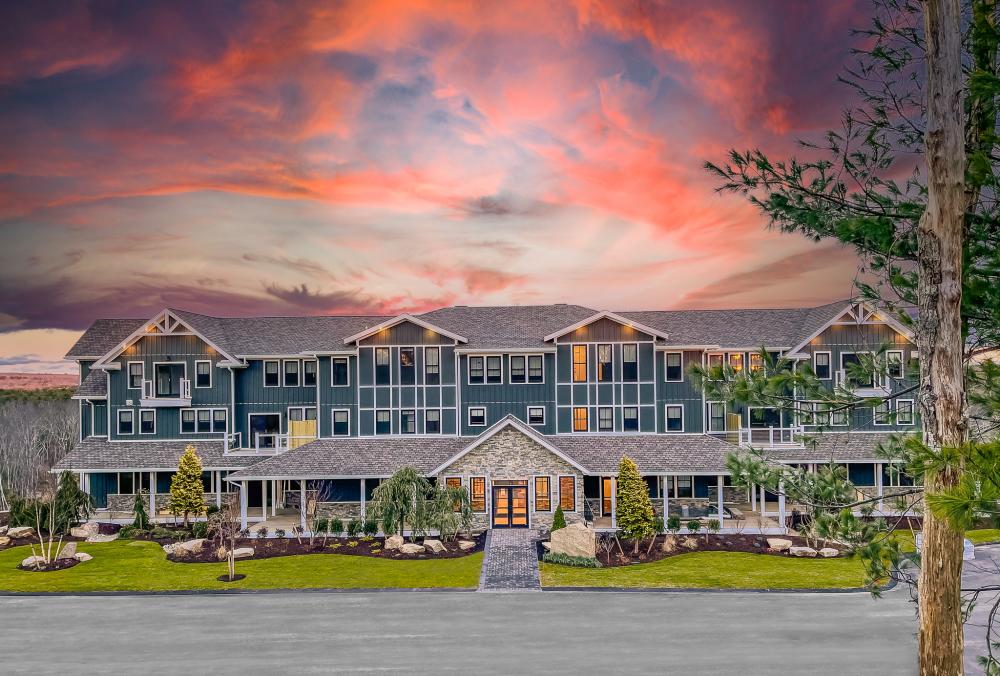 A New Relaxing Experience at the OH! Spa at Preserve Sporting Club
The Preserve Sporting Club in Richmond Rhode Island is opening its new Hilltop Lodge for overnight accommodations along with a new spa.  Guests can find tranquility and rejuvenation with personalized treatments.  The Preserve has created an immersive spa sanctuary like no other, surrounding by the beauty of 3,500 acres of nature and wilderness.  The spa menu is inspired by the region's mountains, forests, fields and gardens.  Information and updated can be found here.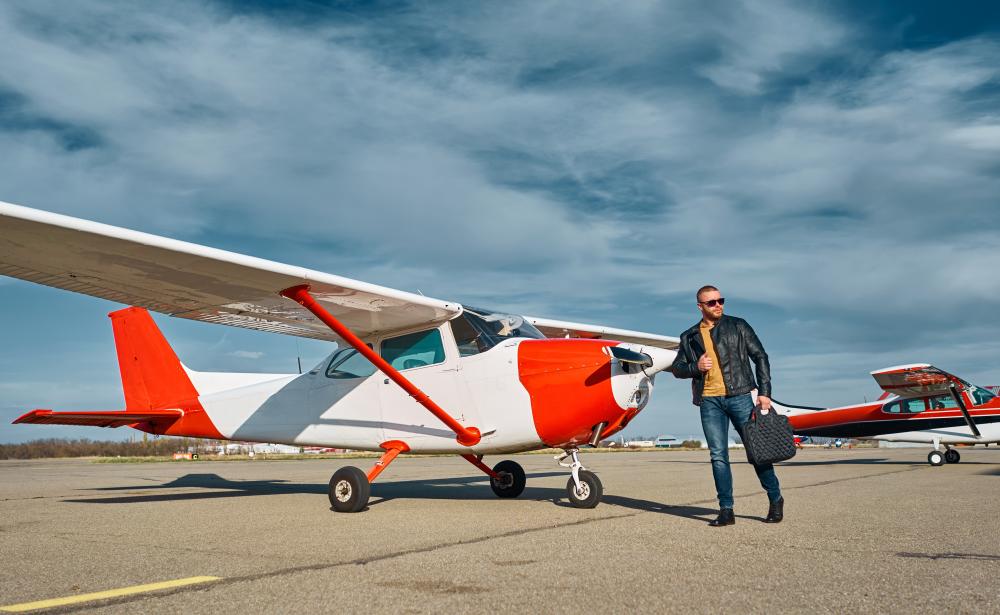 Elevating the Airport Experience OHM Launches Plane Food
Rhode Island's Westerly Airport is on schedule to receive a first-class upgrade. This summer, OHM will unveil Plane Food VIP lounge and gourmet grab & go eatery — adding an element of savory splendor to the air travel experience for resort guests and the community.
An exclusive space for OHM guests and members, the VIP lounge's design aesthetic will be contemporary coastal with ratan wallpaper and wood flooring, comfortable linen sofas and patterned club chairs in navy blue and cream. Overseen by OHM Design Group's Interior Designer Brittany Borghesi, the space will provide a serene respite for travelers to enjoy a complimentary beverage before or after their private jet or helicopter flights.
Next to the lounge, a grab & go kitchen will be open to the public so airport-goers and aviation enthusiasts can stop by for a coffee and tasty bite. Think stuffed croissants and egg burritos in the morning, and flavorful salads and upscale grilled cheese in the afternoon. Select a magazine and relax on the outdoor terrace aside the runway, with prime views of airplanes coming and going.  Follow along on Instagram @oceanhouseri for Plane Food updates.